Niagara Region Market Statistics July 2023
Posted by Shirzad Hamadamin on Friday, August 4, 2023 at 11:15 AM
By Shirzad Hamadamin / August 4, 2023
Comment
The world of real estate is a captivating dance of numbers, trends, and market forces. For those intrigued by the dynamics of the Niagara Region's real estate landscape, the latest data for June and July 2023 provides a fascinating glimpse into the market's pulse. Let's delve into the figures and unearth the stories they tell.
New Listings and Sales: Shifting Patterns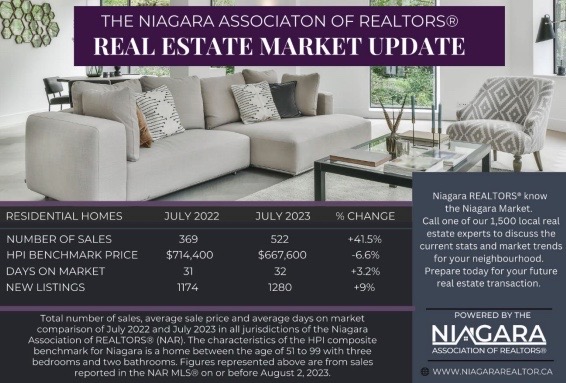 In the transition from June to July 2023, the Niagara Region experienced a minor ebb and flow in new listings and sales. June saw a total of 1,403 new listings, which slightly decreased to 1,280 in July. Similarly, the number of sales dipped from 609 in June to 522 in July. These nuanced changes suggest a market that continues to be active, albeit with subtle shifts in supply and demand.
Benchmark Price and HPI: A Price Discovery Journey
The Home Price Index (HPI) and benchmark prices are key indicators of a region's real estate health. In June 2023, the benchmark price in Fort Erie stood at $552,100, slightly declining to $541,300 in July. Lincoln, on the other hand, witnessed a rise from $801,200 in June to $819,100 in July. These fluctuations underline the dynamic nature of property valuations, impacted by factors ranging from local developments to economic trends.
Average Days on Market: The Pulse of Demand
The average days a property spends on the market is a telling metric about buyer interest and property desirability. Interestingly, Welland experienced a drop in this figure from 21 days in June to 26 days in July. This might indicate increased demand or a competitive market. Meanwhile, Port Colborne/Wainfleet witnessed a notable decrease from 46 days in June to 25 days in July, possibly indicating swift buyer action in these areas.
Local Insights: Spotlight on St. Catharines
St. Catharines, a bustling hub in the Niagara Region, paints an intriguing picture. June witnessed 335 new listings, which slightly decreased to 314 in July. However, the number of sales experienced a more significant drop from 175 in June to 142 in July. This could suggest a temporary lull in buyer activity, possibly influenced by seasonal factors or market adjustments.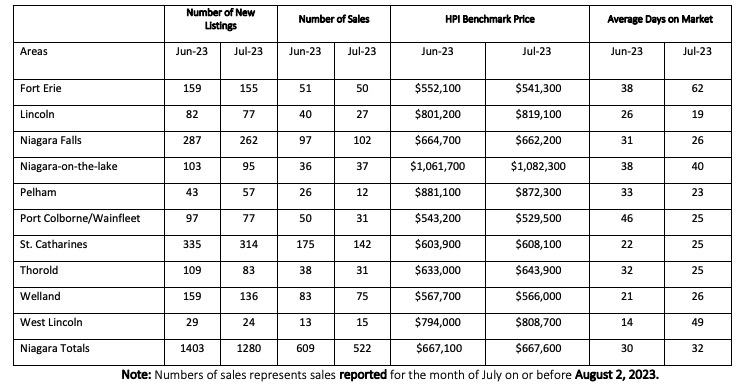 In Conclusion: Unraveling the Patterns
The Niagara Region's real estate landscape is a captivating canvas of numbers and trends. The data from June and July 2023 showcases the delicate interplay between supply and demand, buyer sentiment, and economic influences. As we decipher these patterns, we gain insights that can guide potential buyers, sellers, and investors in their real estate endeavors. Whether you're captivated by the rising benchmark prices in Lincoln or the swift pace of sales in Port Colborne/Wainfleet, this data paints a vivid picture of the region's real estate narrative. As the seasons change and the market evolves, staying attuned to these trends becomes an invaluable tool in navigating the ever-evolving world of real estate in the Niagara Region.
Have questions? Contact us today!